"3 Pick 1" is an alternative means to pick the winning horse in the Win pool. Instead of choosing a winner within the usual full field of 12 to 14 horses, the horses are now grouped into three simple composites with reference to the overnight Win Odds.
Example: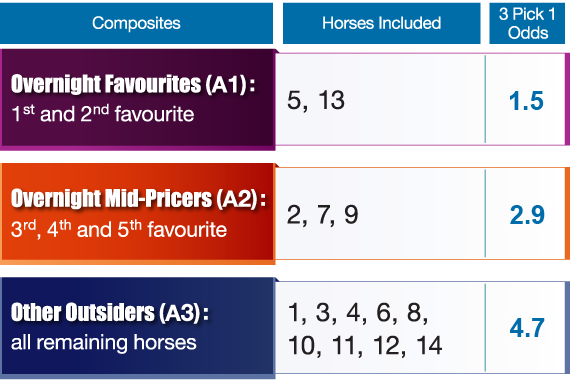 You can collect a dividend when any horse from your chosen composite finishes first in the race. No matter which horse within the composite actually wins, the payout will be the same.
AVAILABLE EVERY LOCAL RACE (WITH 7 OR MORE HORSES). START SELLING TIME AT 5:45 PM ON THE PRE-SELLING DAY OF THE AVAILABLE RACE MEETING.
AVAILABLE FOR SINGLE RACE AND ALL UP BETTING
UNIT BET $10
FLEXI BETTING: Minimum bet amount per bet down to $1 with total bet amount of $100 or more in All Up betting



REBATE: Same as Win, a 10% rebate is applicable for 3 Pick 1 losing# betting ticket* or betline** with a total losing bet amount of HK$10,000 or above in local races.