Turnover of 3 Pick 1 will be merged into the Win pool to ensure liquidity. Each 3 Pick 1 bet will be split into the Win bets of all horses in the composite, based on a reverse ratio of their respective Win odds.
Example:
Consider a 12-horse race with $100,000 Win wagers and $10,320 3 Pick 1 wagers included in the pool as follows:
$5,150 on "Overnight Favourites" (A1: 2, 11)
$3,100 on "Overnight Mid-Pricers" (A2: 4, 5, 6)
$2,070 on "Other Outsiders" (A3: 1, 3, 7, 8, 9, 10, 12)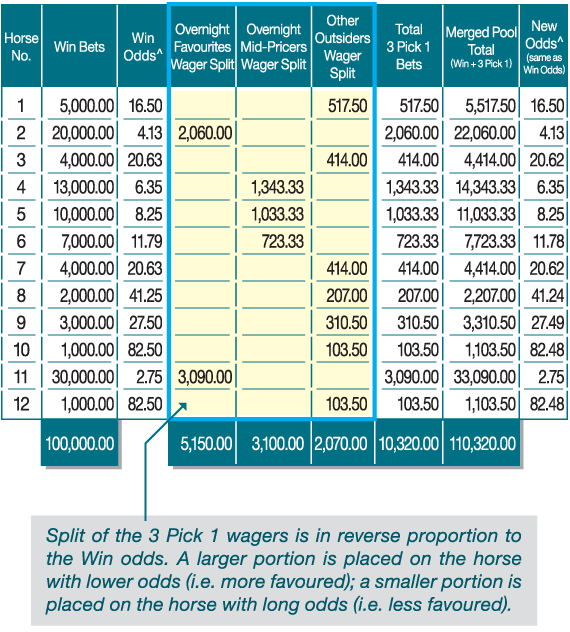 The investment weight for each of the 3 Pick 1 bet is adjusted in order to give a consistent payout. No matter which horse within the composite actually wins, the payout will be the same.
Overnight Favorites (A1: 2, 1 1)

Overnight Mid-Pricers (A2: 4, 5, 6)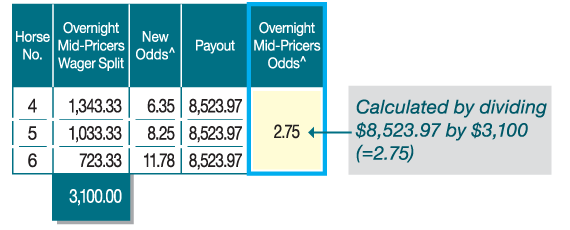 Other Outsiders (A3: 1, 3, 7, 8, 9, 10, 12)