Beauty Only's the "acid" in Rapper's test, Purton's fit for the challenge
02/05/2017 16:24
Zac Purton is arguably the world's fittest jockey and, in his adopted home Hong Kong, he is the best by the numbers, bar arch-rival Joao Moreira.
The two will go head-to-head, yet again, on the market leaders in a major race on Sunday (7 May) when Purton rides Beauty Only and Moreira partners Rapper Dragon in the G1 Champions Mile.
Purton, whose commitment to his fitness typifies his professionalism and focus, is anything but conceding the HK$16 million prize to Moreira despite Rapper Dragon's imposing form, which reads four consecutive wins in Hong Kong feature races including the coveted BMW Hong Kong Derby (2000m).
The John Moore-trained Rapper Dragon had the better, by a half-length, of Beauty Only when the two met in the G2 Chairman's Trophy at the course and distance on 9 April. However, Beauty Only did concede five pounds to his four-year-old rival on that occasion whereas they meet at level weights in Sunday's race.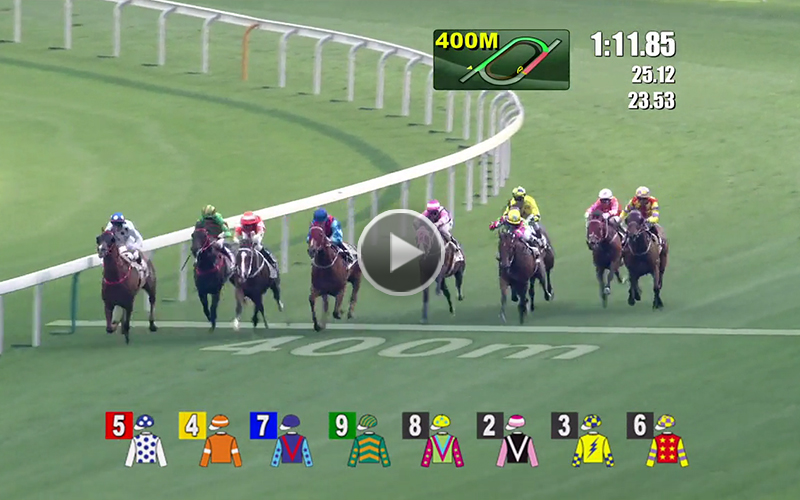 Purton may well see it as not an entirely different scenario to last December, in the G1 Hong Kong Mile over the same course and distance, when Purton guided the market's third elect Beauty Only to victory while the Moore-trained and Moreira-ridden favourite Able Friend was unplaced.
"I think he's a very good chance," Purton said of Beauty Only, "yes, he's had a long prep and stretching out to the 2000 (metres) in the Gold Cup didn't work but the horse is well, he's back to the 1600 (metres) and there wasn't much between them last time. We're also back to level weights, which is a factor."
Purton, who chases a first win in either of Sunday's Group 1 features - the other being the Chairman's Sprint Prize (1200m) - is mindful of Rapper Dragon's quality but hopeful that his mount might be able to expose any vulnerability in the Derby winner if indeed he can be vulnerable.
"You can't knock Rapper Dragon. He's the sort of horse who seems to find a bit more when the pressure is on although I'm not sure any horse has really put the acid on him yet. If any horse can do it, then it's my horse," he said.
The Australian-born jockey concedes that the small field (seven runners) adds another variable to the equation. "That presents a pace query and obviously I'd prefer a genuine tempo as Beauty Only comes from off the speed. He's the sort of horse who wants to go to sleep on you and I generally have to wake him up mid-race. Obviously we'll deal with the tempo on the day," he said.
Purton remains ever faithful to his 'old mate' Aerovelocity, on whom he's won Group 1 races in three countries, in the HK$14 million Chairman's Sprint Prize and believes the eight-year-old is still capable of running well. "Age catches up with every horse but he can still be competitive. His barrier trial was OK last week and he felt better that he has of late so I'm hopeful," he said.
Not only have Moreira and Purton monopolised the top two spots on the jockey's premiership since the former settled in Hong Kong in October 2013, they've won 11 of the 35 International Group 1's run in Hong Kong since - with Moreira holding a 10 to four lead after winning on Neorealism last weekend. Purton leads Moreira six to four in Group 1 wins in Australia over the same period.
Purton would, naturally, love to peg one back this Sunday and it won't be any lack of strength or fitness which stops him. "I like to be fit, just like feeling that much better when you are," said the 34 year-old who, aside from riding track work six days a week, does two or three personal training sessions each week also. Not to mention regular swimming, running and hiking.
"Last Friday, I rode track work and the trials; then did an hour's training session and a 10 kilometre hike. Felt great. Not sure that Nicole was quite as happy about it," Purton said of his wife who joined him in the latter two endeavours as did fellow jockey Neil Callan and his wife Trish.
Purton acknowledges that part of the fitness training is allied with keeping his weight in check. "Better to be active than inactive. Obviously weight's an issue but you become conditioned to eating less and I've learned not to let myself go at any time, even in the off season, as it's murder if you have to rip off 10 to 15 pounds.
"Maybe the exercise allows me to indulge a little bit more but that would only be on, say, a Thursday night or Sunday night," said the jockey who estimates his natural body weight would be about 145 pounds and yet he's ridden as light as 120 pounds in recent weeks. It's a fair bet that a couple of extra pounds will go on, that night, should he win on Beauty Only or Aerovelocity on Sunday.